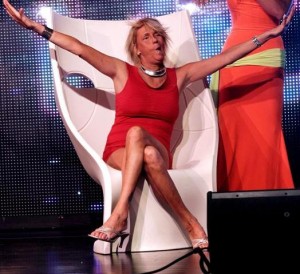 Patricia Krentcil, whose ghastly burnt-sienna-tinged skin turned her into a Web celebrity, was the guest of honor last night at a roast at a drag-queen show in Hell's Kitchen — but got so sloshed that she was tossed.
The New Jersey mom of five was being feted at the event, called "Tan Mom at Hot Mess," at the XL Club on West 42nd Street.
Do you know or are an amazing original drag artist who should be featured here? Let us know through an email at darryl@dragqueens-oftheworld.com.