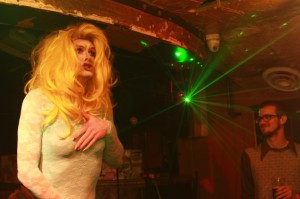 Interview by Ballerina Bizet
RECENTLY I HAD A CHANCE TO SIT DOWN WITH THE LOVELY MS. SCARLET ENVY TO DISCUSS HER RISING CAREER IN THE NYC GAY NIGHTLIFE. SINCE HER ARRIVAL SHE HAS TRANSITIONED FROM PARTYGOER TO DRAG QUEEN PERFORMING AT VARIOUS NIGHTLIFE PARTIES AS WELL AS HOSTING HER OWN WEEKLY PARTY SCARLET FEVER.
FIRST OFF, THANK YOU SO MUCH FOR JOINING ME TODAY SCARLET! TO START OFF, TELL ME A LITTLE ABOUT YOURSELF—WHEN YOU CAME TO THE CITY, YOUR DRAG PERSONA, ETC.
Do you know or are an amazing original drag artist who should be featured here? Let us know through an email at darryl@dragqueens-oftheworld.com.