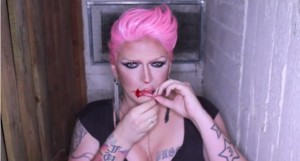 Barbie Breakout expressed in a video for all his suffering discrimination of the LGBT community suffered in Russia and the silence of governments
Needle and thread to sew the mouth, the blood that flows through your face after this demonstration of anger and shame for what is happening in Russia.
To see more and watch the video click here
Do you know or are an amazing original drag artist who should be featured here? Let us know through an email at darryl@dragqueens-oftheworld.com.