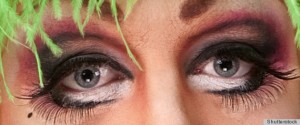 Drag queens have amazing eyes, and I'm not referring to how they paint their eyes, even though those are fabulous. What I'm referring to is how drag queens see the world. In my opinion, drag queens don't see the world like the rest of us do, and that is a good thing, for if they didn't, we would lose out on their art.
Drag queens have the ability to see the world through the eyes of a child, what I call joyful eyes. Please don't think I mean that as an insult; it's quite the opposite. I feel that being able to see the world in this way is quite a blessing. It's an ability I wish I possessed.
Do you know or are an amazing original drag artist who should be featured here? Let us know through an email at darryl@dragqueens-oftheworld.com.