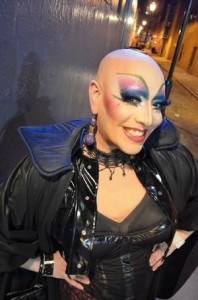 This week I brought to you some information on one of (if not THE) most fantastic drag queen in Philadelphia in the Stage section of the paper:
You might think "Sinful Sunday" is just a cutesy way to match a day of the week with an accompanying adjective, a la Thirsty Thursday, Frisky Friday, etc. But no. Thing is, Sunday night at Tabu Lounge and Sports Bar is a different kind of church. Or for that matter, you're welcome to come hear The Goddess Isis preach from her pulpit 12 hours after dragging your hangover-havin' self to service with Mom and Dad and listen to a preacher cut from an entirely different cloth. ?
Isis has only been in Philadelphia for about three years, after a long and edifying stint in the South.
Do you know or are an amazing original drag artist who should be featured here? Let us know through an email at darryl@dragqueens-oftheworld.com.