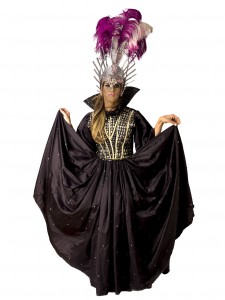 "The first time I really saw Drag Queens was in Sao Paulo in the Italian neighbourhood called Bella Vista some 5 years ago. There is a huge dancing club there. I was supposed to meet some friends there and have a good time. In Sao Paulo you always have to wait outside until you can come in.  A long line is waiting for other people to come out. Of course everything is corrupt, even in Sao Paulo, so the only thing I had to do was calling my friends and they would let me in.
So I posted on the other side of the street out of the line. Waiting for my friends to come out and let me in. Before I go on, it is good to understand the Brazilian society in some statements. Sao Paulo has a population of 23.000.000 people. It is a city of bankers. It is the financial city of Brazil. There is a lot of industry around it as well. The young people in Sao Paulo do three things. They work at a bank, they study in the evening and they party at night. There goals are the goals of the bourgeois: settle, have a family and a car and be financial successful. The city is in all its complexity very conservative in thinking and behavior. This means that they like to be more or less the same. There is not so much diversity in clothing and behavior. Let's put the image a little bit exaggerating. I saw a long line of young people in blue jeans and white T-shirts, with the inevitable tennis shoes. Boring for me, more of the same, not challenging.
And than it happened. On of the main doors of the dancing club broke open and a large group of young Brazilian's all dressed in blue jeans, white T-shirts and the inevitable tennis-shoes burst into the streets, next to the long line of waiting people. And than, high rising above them I saw some demonic creatures all in black and extravagant colors with strange huge wigs and extraordinary clothing, rising high above them, following them. As if the young people were driven out by them. It was an image from purgatory itself. It was an image of Jeroen Bosch in which the poor victims are pushed around by strange looking creatures. It was the inferno of Dante depicted by Gustave Dorée. Those creatures were the first Drag Queens I really saw.
Men dressed up as girls, larger than life and more profound different from the rest. That was the moment our project of Drag Queens was born. "
Martijn Crowe