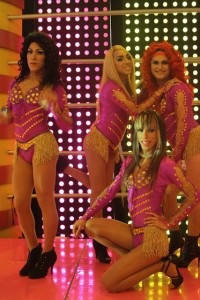 Translated from Spanish with google translate.
Hey guys, long time without posting anything, absolutely nothing. Well, the time was not in vain and that happened hundreds of positive events and great news. Now more than anything my career as a drag queen is at its climax, but I no longer drag queen never will. We have launched a new concept of entertainment, that's how they got together three artists initially to form a group called Kumbia "The Taste Mariconitas". We Michell, Genesis, Anabel and Leisy. Our show started in the disco room Valetodo Downtown in America.
Click here to see and read more
Do you know or are an amazing original drag artist who should be featured here? Let us know through an email at darryl@dragqueens-oftheworld.com.