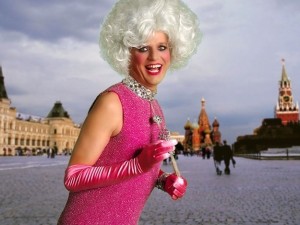 Putin was on a one-day visit in the Netherlands for the start of the Netherlands-Russia Year.
Drag queen Dolly Bellefleur had the massive crowd cheering with an anthem on Russia's oppression of LGBT people.
Some of the lyrics:
There lives an evil man in Russia nowadays
He supports a law against lesbians and gays
Most people look at him with terror and with fear.
To see more and watch the video visit 
Do you know or are an amazing original drag artist who should be featured here? Let us know through an email at darryl@dragqueens-oftheworld.com.