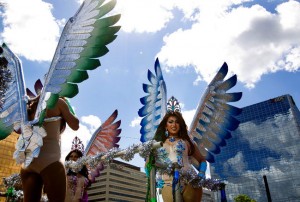 Filling downtown Edmonton with a colourful convoy of fabulous floats, thousands of people flocked to the local Pride Festival Parade Saturday.
Rolling down 102 Avenue to a jubilant crowd in Chruchill Square, the annual parade is one of several Pride events for Edmonton's lesbian, gay, bisexual, and transgendered, and queer (LGBTQ) community.
Do you know or are an amazing original drag artist who should be featured here? Let us know through an email at darryl@dragqueens-oftheworld.com.