Welcome to the Drag Queens exposition pub tour event !

By the Faketory
During the gay pride 2014, The Faketory organizes an exposition of Martijn Crowe's pictures he made for the project Drag Queens of the world. The exposition takes place in 9 partner pubs and shop of Amsterdam city center. You can, during two weeks, from 25th of July to 3rd of August, take a look at our productions in all our partners places where you'll find different pictures in each place.
The tour idea ?
Join us in a ephemeral group for one night, we'll walk through the mass of people coming to share the beauty of humanity.
The plan ?
We will altogether visit the pubs, meet people, exchange and discuss around art and drag queens topics, contemplating the fruits of the project Drag queens of the world. This is a way to show to the world how we celebrate differences.
The tour ?
Gay Pride Tour:  The 31st of July at 5PM, we'll start altogether on the

Mercatorplein

for the Pride Walk.  After this memorial walk tot Homomonument, we will gather at  

Café Saarein at 7PM

 and start the tour along all hot spots exhibiting the pictures. Hop along and enjoy this Gay Pride pre-opening night in good company .
The hot spots ?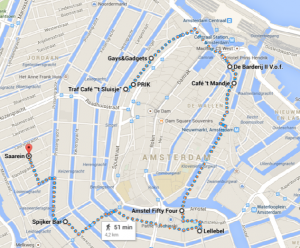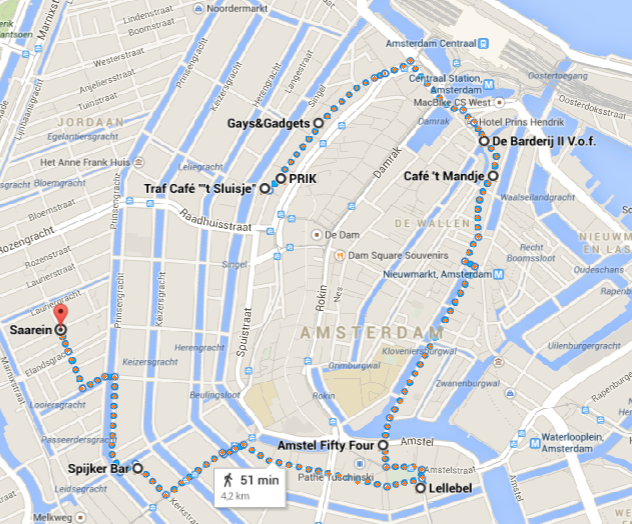 Subscribe on Facebook event page and stay informed: 
Drag Queens of the World is an international research project, combining art and anthropology. Its unique in its scope: We met, interviewed and photographed drag queens from all over the world, we went to their clubs and made background research about their place in their local environment. The project has resulted in exhibitions and lectures from Sao Paulo to Tromsø and from Tijuana to Dhaka.  Currently, we are rounding of the project by making the book Drag Queens of the World, which you can contribute to in our crowdfunding campaign.  All the art works are for sale, and lectures, art events and consultancy services can be arranged with us at the Faketory and our artistic director Martijn Crowe.