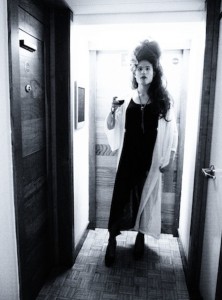 Before taking the terrifying plunge and transforming myself into a bonafide Drag Queen – the first external realization of my life-long alter ego 'Glamrou' – I confess that I had not yet self-reflexively questioned why I was so desperate to ditch my brogues and throw on a fuchsia bra, or what purpose such an aesthetic transmutation would serve. I just knew that I really wanted – needed, even, – to do it.
Almost three years on from that first ever VEET-massacre, and now being entirely accustomed to performing and partying in my plethora of pet-like wigs (they literally breathe they are so bushy and glorious,) it is still, only now, that I'm beginning to scrape the glittery surface when it comes to the political, psychological, and philosophical complexities of what Drag actually IS or DOES.
Do you know or are an amazing original drag artist who should be featured here? Let us know through an email at darryl@dragqueens-oftheworld.com.