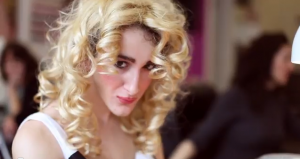 A day in the life of three young drag queens is not something you might expect from a folk pop music video.
But for director Gabriella Sonabend, 22, marching her teenage brother through the streets of Primrose Hill in a wig, dress and make-up seemed an obvious choice for singer-songwriter Kal Lavelle's newest promo.
Do you know or are an amazing original drag artist who should be featured here? Let us know through an email at darryl@dragqueens-oftheworld.com.